7 Packing Hacks to Make Moving Day Less Stressful
Posted by Brian Burke on Wednesday, November 25, 2020 at 4:37 PM
By Brian Burke / November 25, 2020
Comment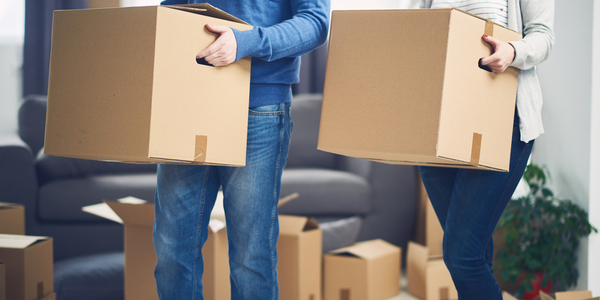 As you stare at a house full of items, packing can seem overwhelming, but the good news is that numerous packing hacks can make moving day less stressful. Staying organized and being creative with your packing space are key to making packing easier, and once you take advantage of the many packing hacks, your moving experience will be less stressful.
1. Pack One Room at a Time
If you just stare at a room, you might get a little overwhelmed, but it's important to focus on packing only one room at a time so you don't go crazy with the clutter. Not only will it help you keep you focused, but it will help keep your move much more organized. It's best to start packing as soon as possible, and you can start with items you don't use often like seasonal décor and clothing, linens, and entertainment items such as books and movies.
2. Use Every Available Space
Whether you choose to keep or donate/sell/trash items, every single item in your house will have to be moved so it's important to use every available space to pack items. For heavy items like books, you should pack these in a rolling suitcase so they can easily be transported to your new house. In the kitchen, you should pack smaller kitchenware or items like spices inside your pots to take advantage of the available space, and even items like laundry baskets and hampers can provide valuable storage space which will cut down on the number of items having to be moved.
3. Use Labels
One of the easiest ways to reduce your moving stress levels is to use a labeling system for boxes. You need to be specific when labeling your boxes and include what's inside and where the box should be placed inside your new house. Some people find it easier to use a color-coding system so all the boxes with red stickers go to the kitchen and blue stickers to the living room, and others find it easier to number boxes and keep a master list of what is inside each numbered box. No matter what system you use, you need to be consistent with your labeling method.
4. Skip the Bubble Wrap
One common misconception on moving is that you need a large amount of bubble wrap, but you can use products you already have which will allow you to save money and help protect the environment. When wrapping fragile items, you should use items you have to move anyway like blankets, sheets, towels, and t-shirts, and you can tuck socks inside of your glassware to help protect them. To top off a box, you can include a pillow to help prevent the items from shifting inside the box.
5. Store Lightbulbs in Ornament Boxes
To prevent any lightbulbs from breaking during a move, you should pack them in an ornament storage box. If you don't have a box with dividers, you can simply use a small storage box and wrap the lightbulbs in tissue paper to ensure they are secure during the move.
6. Use Same Size Boxes
Some items you move will be larger than others, but it's best to use the same sized moving boxes when possible. This will alleviate stress when you are loading the moving truck because boxes will be easier to stack and make better use of your available space.
7. Don't Pack Everything
If items can be safely moved as they are currently stored, you should move them accordingly. Instead of taking your silverware out of your drawer organizer, you should simply place your drawer organizer in a storage box and eliminate the hassle. Instead of folding all of your hanging clothes, you should use a wardrobe box or garment bag to move them. Instead of emptying your chest of drawers, you should keep the clothing inside and use plastic wrap to secure each drawer.
Packing doesn't need to take over your life. You can pack in an easy, stress-free way if you take advantage of packing hacks and don't wait until the last minute. By using these packing hacks, you are making it easier to move out of your current house and into your new house.
Valerie Cox is a contributing writer for Allied Van Lines. In her spare time, she enjoys spending time with her family, baking, and volunteering in her local community.
7 Packing Hacks to Make Moving Day Less Stressful