7 Ways to Boost Your Home's Market Value
Posted by Brian Burke on Saturday, September 11, 2021 at 8:19 AM
By Brian Burke / September 11, 2021
Comment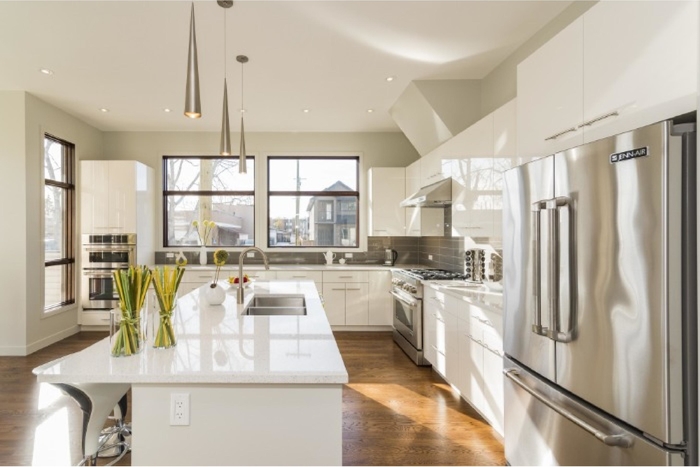 Many homeowners embark on a home remodeling journey in the hopes of increasing their home's value. However, a lot of them are not aware that not all home improvements are created equal. There are projects that can cost you tens of thousands of dollars but do very little in raising your home's price on the property market.
Whether you're renovating your home for your personal benefit or to sell it for the highest price, the following home improvement ideas can give you the most bang for your buck:
1. Automate Your Home
Home automation is a growing trend in real estate, and they are only going to become in-demand in the years to come.
Smart home technologies sell not only because of the convenience they offer; they also increase your home's value and make it more appealing to prospective buyers, particularly millennials.
The most sought-after smart home upgrades include smart thermostats, lights, door locks, security systems, and garage doors, but some homeowners go all out and splurge on an automatic gate as well.
Automated gates require a substantial financial investment, but they will take your property's security and privacy to the next level.
2. Apply a Fresh Coat of Paint
You'll be amazed at how repainting your walls can instantly transform the look and feel of your home.
Applying a fresh coat is the easiest and most cost-effective way to breathe new life into dingy or dated interiors and exteriors. Aside from giving your walls their much-needed facelift, paint also defends surfaces from wear and tear.
But while paint can be an inexpensive way to update your home, you'll have to pick the right colors, especially if you're planning to sell. Neutral color schemes can make a space look classier and they also tend to appeal to a wide variety of homebuyers.
3. Spruce Up Your Landscaping
Curb appeal can drive your property's value up or down, so you've got to make sure your home looks desirable when viewed from the street.
When it comes to keeping a home's curb appeal at its best, landscaping always gets the job done. And the best part is that it's a relatively inexpensive home improvement project.
Something as simple as fixing your fence, cleaning up your lawn, removing dead trees and bushes, replacing old mulch, and planting new trees and flowers can boost your home's curbside aesthetics. Sure, they require plenty of time and effort, but these pursuits are likely to pay off handsomely in the end.
4. Upgrade Your Bathrooms and Kitchens
If you can only pick two areas in your home to renovate, go for the kitchen and the bathroom. Projects focused on these two areas are likely to produce the most ROI. They also hold a unique sway among homebuyers.
Updating your kitchen and bathrooms doesn't have to cost you an arm and a leg. Can't afford a full-out renovation? You modernize these spaces without making a big dent on your wallet. Repaint the cabinets. Replace the hardware. Buy a new faucet. Even minor upgrades can bump up the value and desirability of your home.
5. Update Your Decor and Interior Design
A little interior makeover can go a long way. Some furniture, artwork, and design updates can drastically enhance the visual appeal of your home sans the staggering price tag.
If you're staging your home for sale, simple and straightforward home improvement projects like rearranging furniture, updating your lighting fixtures, adding cushions and area rugs to your living spaces, replacing old door knobs/hardware, and repainting your doors and moldings/baseboards can make your home feel brand new.
6. Add More Usable Space
Location may be the primary consideration when buying a home, but square footage is just as important. Adding more usable space to your home can make it feel more spacious and, consequently, more attractive to buyers.
These days, people are gravitating towards open floor plans and extra living spaces when looking for their next home. That being said, you might want to consider creating a comfortable outdoor living area – maybe, deck or a patio – for your next home improvement pursuit.
7. Invest in Energy-Efficient Features
Energy efficiency is a growing trend that isn't going away anytime soon, and it's not difficult to realize why. In fact, many homeowners who have felt the sting of escalating energy costs have since installed solar panels or solar shingles to cut down on utility payments.
If solar panels are way beyond your budget, there are still plenty of things you can do to make your home more energy efficient such as adding double glazed windows for better insulation and switching to energy-efficient appliances.
Every small step towards sustainability will save you money down the line – and make your home more appealing to modern homebuyers (should you decide to put it on the market).