Cabinetry Trends That Work Well in Minimal Kitchens
Posted by Team Kenna on Thursday, December 15, 2022 at 8:41:02 AM
By Team Kenna / December 15, 2022
Comment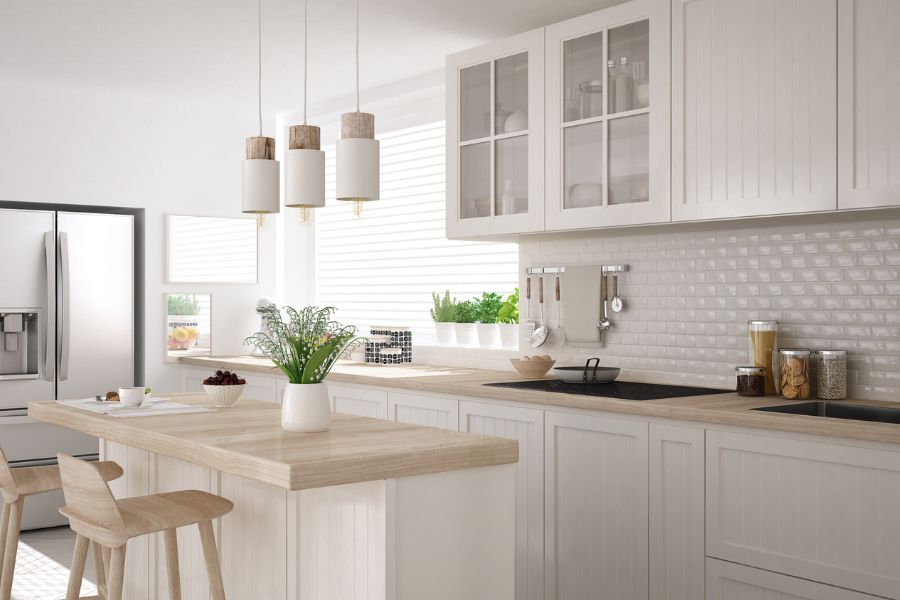 Minimalism is one of the most popular interior design themes in recent years. If you want to achieve the perfect minimalist kitchen space, you need your cabinets to match your overall design. Here are some cabinetry trends that work well in minimal kitchens.
Slab Cabinetry
First, you'll need to know how to choose the best cabinetry for your kitchen. Slab cabinets are one cabinetry trend that works well with a minimal kitchen design theme. These have slab panel doors with no additional ornamentation or beveling. Their simplistic look makes them a perfect choice for minimalistic kitchen spaces. Compared to most other cabinetry styles that have intricate paneling with too much decoration for a minimal aesthetic, these fit well when you prefer clean and simple lines. You want to avoid installing cabinets that distract from your overall design theme and stick out like a sore thumb. Therefore, installing slab cabinetry is great if you have a modern, pared-down kitchen style.
Sleek Finishes
Another cabinetry trend that fits in with the minimalist kitchen style is sleek finishes. Choosing your cabinetry is only one part of the process. You also want to select a cabinetry finish that complements and adds to your overall theme. Sleek matte and high-gloss finishes are fantastic options in a contemporary kitchen space. A matte finish is modern and simple but adds character to your space. A high-gloss finish is clean and shiny, bringing in a little extra flair and brightness. Matte finishes will be less high maintenance than high-gloss finishes, as the latter shows fingerprints more readily and will need regular cleanings. However, both work wonderfully in minimalist kitchens.
Modern Hardware
Modern hardware is also a great trend to include in your minimal kitchen. Less is more when it comes to minimalism, so you want to avoid choosing cabinetry hardware that's too embellished or intricate. Instead, you should choose simple, functional hardware that fits your design aesthetic. Slab cabinetry often looks most contemporary without hardware altogether. However, if you still prefer hardware but want it to be understated and out of the way, you can find a few perfect options. For example, push latches, integrated handles, and hidden pulls are all superb hardware types that are virtually invisible to the naked eye. These hardware choices are functional, simple, clean, and contemporary, working well within a minimalistic design.
As you create your kitchen space, be sure to consider these cabinetry trends that work well in minimal kitchens. Keep your choices modern, minimal, functional, and cohesive with your overall design, and you'll have a stunning kitchen in no time.