Custom Glass Backsplash: Superb Ideas To Spruce Up Your Kitchen In 2020
Posted by Brian Burke on Thursday, February 6, 2020 at 7:02 AM
By Brian Burke / February 6, 2020
Comment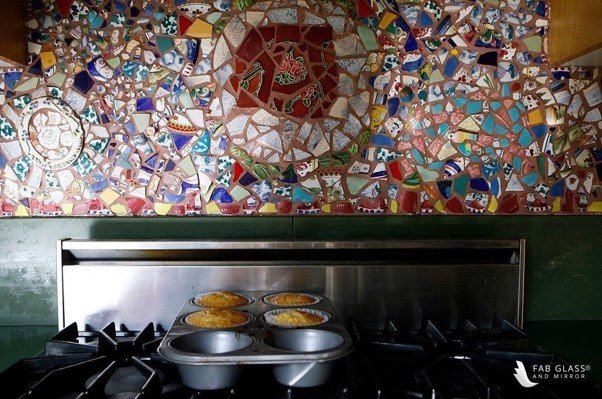 If you are not aware of a kitchen backsplash, it's about time that you need to catch up! It is a super classy back panel option which has been dominating the US and European markets for several years now, complementing the modern state of the art kitchens.
A custom glass backsplash is simply a panel carved out of the glass which can be coated with a shade of your choice before being mounted on the kitchen wall. The arrangement offers a viable and functional solution alongside a fully adjustable appearance which is easy to manage and clean.


Why do we use glass backsplashes in the kitchen?
Thinking of some glass backsplash ideas? Incorporating a glass backsplash into your kitchen is seldom advertised as a bad choice. Whether you've just purchased a home, or are considering remodeling it, here are a few benefits that only a glass constructed countertop can offer.
Minimal maintenance
Backsplashes carved out of glass are often easy to maintain since their surface is seamless and flat. All you require is a damp cloth, glass cleaning solution, lukewarm water, and probably a gentle buffering cloth piece to turn the exteriors squeaky clean. In short, a very little investment is required for tidying up a kitchen backsplash.
Dazzling appearance
If you intend to pull off a luxurious and elegant kitchenette look, then glass-made backsplash is the way to go. So, whether you are contemplating a new kitchen construction or redecorating an outdated one, it's a smart idea to add a stylish custom glass backsplash. Using it will not only help you protect the kitchen wall from cooking spills and splashes but will also make the place look appealing and impressive.
Heat Resistant
A backsplash tends to get exposed to consistent heat when you are cooking the meal. If you are worried that the back panel color might wear off, then you will be pleased to know that nothing of that sort is ever going to happen, especially with the glass. The material is extremely fire resistant and will therefore not get affected by the intense cooking temperatures.

An array of colors to choose from
Nowadays, you can get a broad range of color combinations to choose from. It is easy to find the type and tone of the glass backsplash that goes well with your kitchen color scheme, theme, and layout. Due to the inherent properties of the glass, all the colors will maintain their original condition for a very long time to come.
Variable Size Options
Different backsplash types, layouts, and variants are available to suit regular as well as the custom measurements for your kitchen back panels. You also have an option to purchase a single large glass panel and then cut it into smaller pieces to serve your requirements well.
Light reflection
By merely adding a glass-based backsplash, you can get a radiant kitchen appearance without investing a dime in an advanced lighting system— The explanation behind this is that the glass reflects light too well, thus, evading the shadow formations and leaving your kitchen luminous and vivid.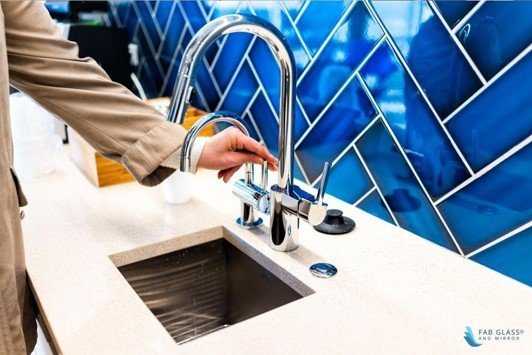 Why is a backsplash made of custom glass the best fit for your kitchen?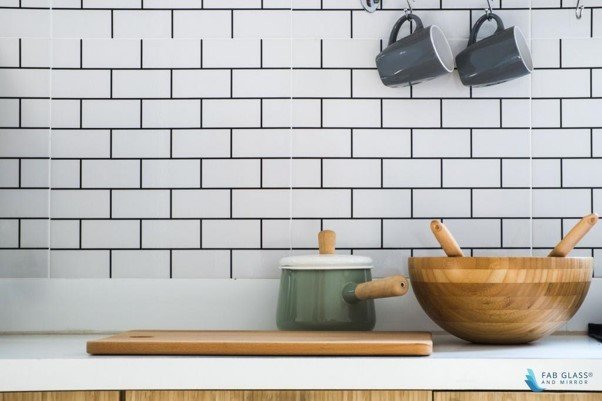 The latest craze to reach the kitchen decor scene is a coveted custom glass backsplash—a contemporary, sleek and trendy way of protecting your walls.
Ceramic tiles and steel are very typical backsplash choices for the kitchen. Many individuals also prefer sticking wallpapers or probably extending their countertops up against the walls. Rather than following a concept that will soon fade off, why not be a little innovative and pick a custom glass backdrop instead?
Glass backsplashes are unique, functional, attractive and perfect for any contemporary kitchen.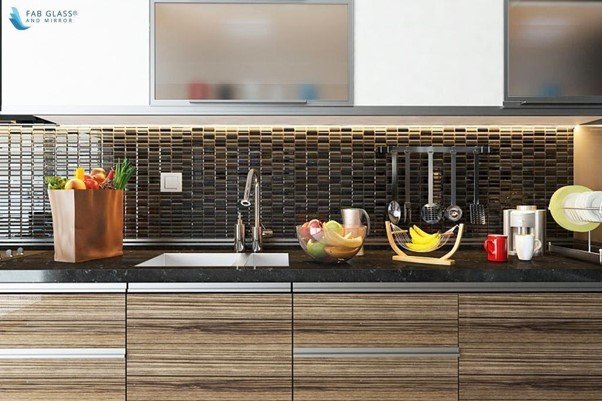 Clean and Hygienic
Standard ceramic backsplash tiles are put in place with a caulking seal. If you had ever tried cleaning grout, then you already know it's never an easy task to accomplish. Also, in the interstitial spaces of the grout, the harmful bacteria tend to grow and thrive, making it exceedingly challenging to exterminate.
Although a stainless steel back panel does not involve grout but is also not easy to clean— In fact, the kitchen backdrop is often a sponge for smudges and fingerprints. Sometimes, if you're not careful when you're cleaning stainless steel, its surface can get permanently scratched, leaving ugly streaks all over.
In comparison, a custom glass backsplash is not only easy to maintain, but it is hygienic too. With a mild scrub or a wet cloth, sweat, oil and food stains can be easily wiped away, and hardly any elbow grease is needed. With glass material, it is often quick and simple to keep your kitchen sparkling and sterile.
Complements your kitchen style
The typical stainless steel, ceramic tile and the other big names for the kitchen backsplash products offer a very limited choice where customization is involved. Nonetheless, you can have a unique look with personalized glass that genuinely accentuates your home decor theme. Here are 6 tips and tricks for designing a new Kitchen
There are virtually countless glass backsplashes Ideas to take a pick from. The glass countertops come in a seemingly infinite range of colors, shapes, sizes and designs. Additionally, these can also be built-in sync with your existing kitchen style. Skilled custom artisans can also come up with one-of-a-kind backsplash painted as a focal piece to boost your kitchen space's aesthetic features. As for custom glass backsplash, your choice is what drives it all. Your comprehension only limits the creativity of a kitchen countertop— otherwise, any design that you fantasize in your home won't take much longer to turn into a beautiful reality.
Tile backsplash v/s Glass backsplash - which one is better?
Tile backsplash
A backsplash tiles are the most popular type of countertop which are more economical than customized glass panel models. Backsplash tiles are either carved out of the glass or ceramic provide an affordable solution for kitchen makeovers.
Tiles are suitable for individuals who are already spending a fortune on other things such as a kitchen island or granite worktops. Also, since there are several tile designs and colors available to choose from, a tile backsplash can be personalized without investing as much money. By piecing the tiles together, you can even generate alluring patterns and carve a unique back panel look of your own.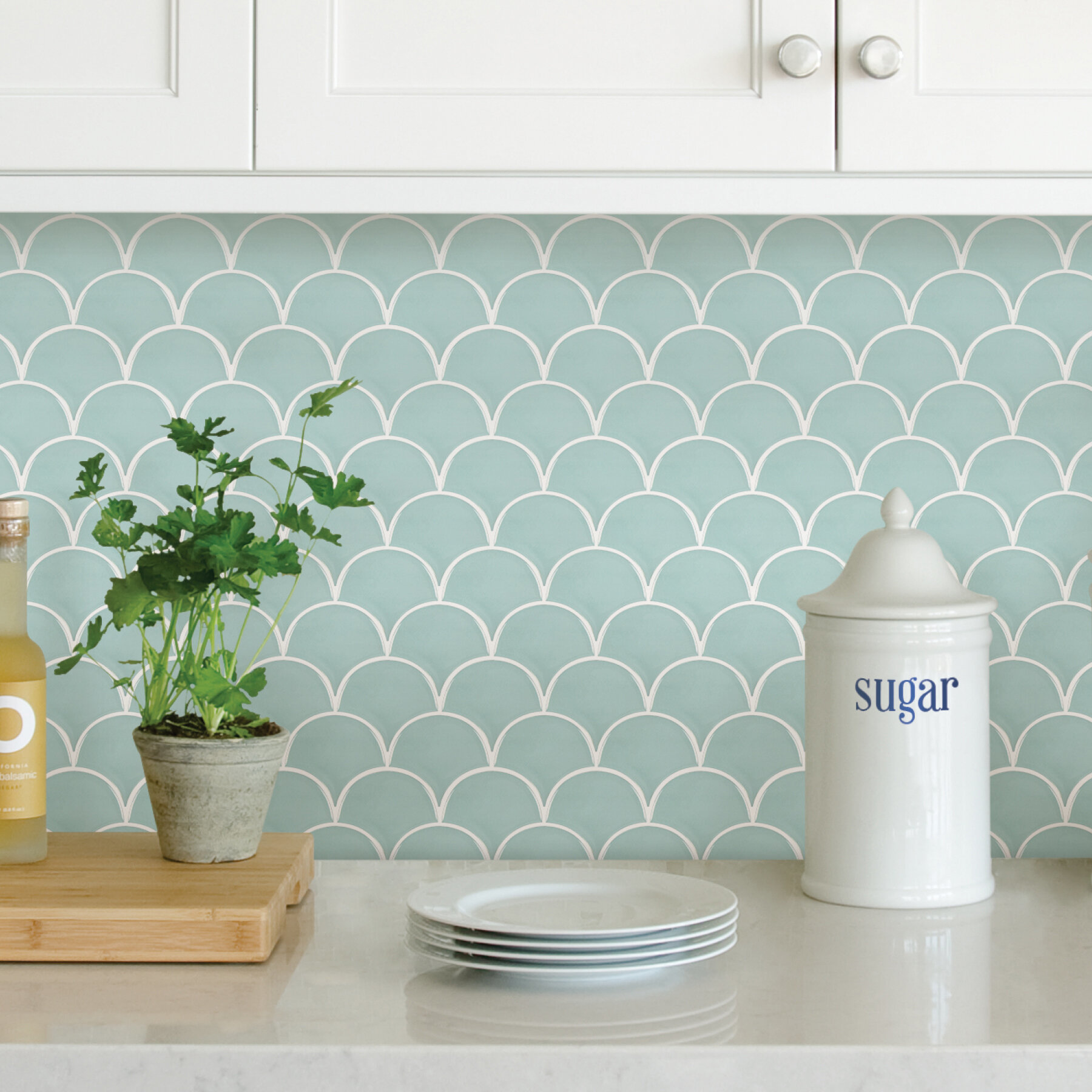 Custom Glass Kitchen Backsplashes
While the customized glass kitchen backsplashes are a little pricier than the tile countertops, compared to tile variants, they offer a significant aesthetic improvement too. They give your kitchen a more stylish and vibrant look as compared to the conventional alternatives.
Apart from above, glass is much easier to clean and is better equipped to deal with oil splashes and stains than the ceramics. Since there is no caulk sealant as in the case of tiles, glass backsplashes are safe from bacteria inbreeding too.
Verdict
Tiles are a good alternative if you are aiming for mere affordability. There is, however, a substantial difference in being cost-effective and reasonable. Custom-made glass kitchen back panels lower your expenses in the context that they are way more aesthetically appealing, bring value to your kitchen decor, and will outlast the tile backsplashes.
If you would like a nice countertop feature behind the sink or oven as an enhancement to your wall, custom glass backsplash is most certainly the preferred design to go for.