Flowers At Home? Here Are Some Benefits
Posted by Brian Burke on Friday, May 14, 2021 at 6:03 PM
By Brian Burke / May 14, 2021
2 Comments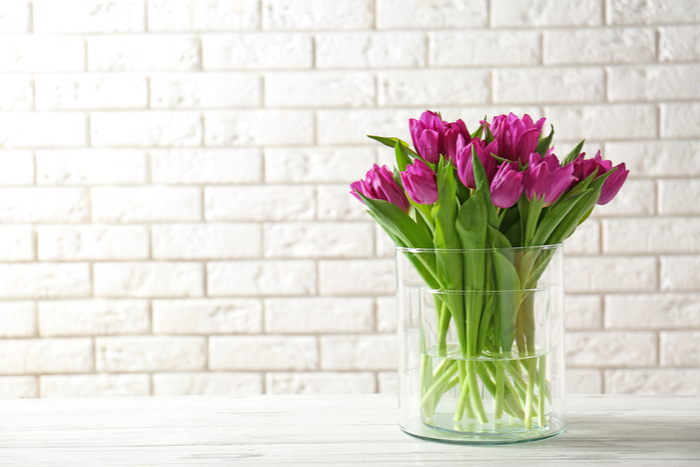 Flowers are fragrant, colorful, and make for beautiful gifts for many occasions. Except for those who are allergic, most people love flowers and they fill us with joy.
With the pandemic and increased popularity of remote working, we are all spending more time at home. There are many benefits to surrounding yourself with flowers as marvels from nature.
Besides the many scientific benefits of keeping flowers in the home, there are other advantages of having flowers in your home.
Benefits of Flowers
Here are a few benefits of having blooms in and around your home.
Clean Air
Plants in your home and garden not only smell delightful, but they also filter the air and release oxygen to your benefit.
Some plants such as gerberas, peace lilies, daisies, mums, and bromelias remove toxins from the air and release a large amount of oxygen. More oxygen improves your sleep and makes you feel more rested. Flowers help you maintain a relaxed atmosphere with easy to breathe air.
Pick Me Up
The bright colors and pleasing fragrance of blossoms helps to improve your mood. Their aromatherapeutic powers help maintain a relaxed atmosphere. Besides improving your mood, being in the presence of these blooms has been shown to increase empathy levels noticeably and help you connect better with others.
Fill even the most morbid room with positive energy by planting flower beds in front of windows and having flowers around the room.
Enhance Your Design
Flowers come in all shapes, sizes, and colors, making them the perfect way to enhance your household design inside and outside the home.
You can use carefully placed blossoms to draw attention to critical features or draw attention away from areas if you need to. Incorporating flowers into light fittings and ornaments can add a touch of adventure and creativity to your interior.
You can reflect the theme of the room and garden or your personal preference with the right blooms. Sprucing up spaces with a dash of color is a cost-effective manner to add décor without committing to a permanent change or spending a lot on artwork. Pick your vase and create your bouquet to add an extra decorative touch to any space.
Improve Mental Power
According to a recent study, flowers in your workspace improve your cognitive performance and boost your creativity and productivity. They truly are miracles from nature.
Floral arrangements boost oxygen levels that activate your brain cells and aid your concentration and memory capabilities, which are ideal for studying or when working.
Improve Emotional Health
Flowers have physiological benefits and can lower your blood pressure, reduce feelings of pain, anxiety and fight fatigue. They help you de-stress and relax, which explains why we give flowers to the sick or grieving.
Giving someone a bouquet is a sign of caring for them, which improves their well-being, and makes them feel connected. Coupled with the mood-lifting effect of the color and fragrance of the blooms, they are a powerful emotional health tonic.
Picking flowers for someone from your garden adds a personal touch and is light on your pocket. There are many easy to create flower arranging ideas available to make and give the perfect bunch of blooms.
Relaxation Aid
It is well known that gardening helps you combat depression and stress levels. The fragrances of the garden and flowers contribute greatly to this process.
Stopping to smell the roses holds real benefits to you. Blossoms by your bedroom window or next to your bed will improve your sleep. Reduce your stress levels in any space you need it.
Hospitals have tapped into the relaxing aspect of plants. They often provide spaces for patients to interact with nature to help them relax and recover faster.
A bouquet of daisies, purple asters, and red and orange carnations will make any sick friend feel better in more ways than one.
Natures Beautiful Wonders
Flowers are beautifully decorative and have multiple benefits for your physical and emotional well-being while improving your cognitive capability and concentration. A bunch of flowers cheers up the room and makes an appreciated gift.
>>> Here is How You Can Make Flower Arrangements For Your Home
Spruce up your garden, home, and mood with flowers and experience their benefits for yourself.
View All Homes For Sale in Denver, CO >>>