How To Deal With The 3 Worst Things Difficult Tenants Leave Behind
Posted by Brian Burke on Monday, January 4, 2021 at 4:33 PM
By Brian Burke / January 4, 2021
Comment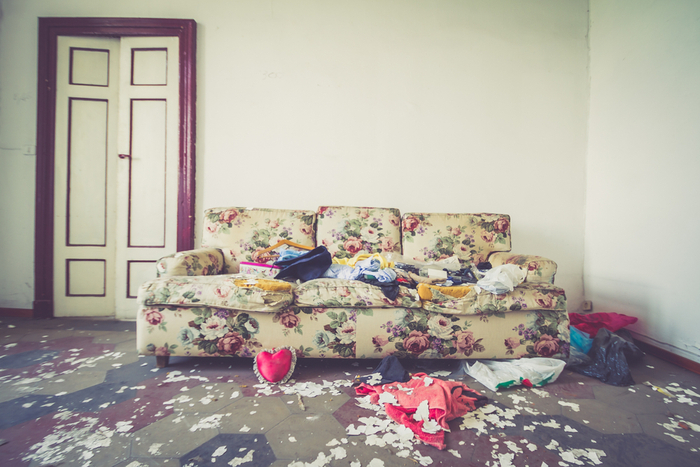 The average landlord covers the costs of property repair in 89 percent of cases, according to Porch. Some repairs can be minor, such as lightbulb replacements or updates to the HVAC system. However, some can be a heavy financial burden. This can be hard to justify if the tenant is the one at fault. Let's take a look at the top three things trouble tenants leave behind, how to deal with them, and how to hold tenants accountable for them, if possible.
Property Damage
By far the most common type of negative outcome left behind by bad tenants is physical damage to the property and its contents. This can be subtle enough that it will only be felt by the second or third generation of occupants. But by then, the damage will have progressed too far. Be sure to do a thorough inspection of the property before the offending tenant moves out. That way, you have ample time to charge them for the damages and take them to court if they refuse.
In the event of a lawsuit, visual evidence is paramount. Make sure to take pictures of every corner and fixture within the unit, with timestamps enabled. Once you make your inquiry, take pictures of the same areas, and compare them to assess the damage. For appliances, on the other hand, video evidence does a good job of comparing how they functioned before and after the occupancy. Make it a point never to rent out a unit with damaged interiors and items, so you are extra sure nothing slips by your notice.
Mess And Foul Odors
Cleaning up messes and eliminating odors can be incredibly time-consuming, inconvenient, and costly. Fortunately, landlords are allowed to take from the occupant's security deposit to cover the costs of cleaning. Provided, however, that such messes can be proven to be beyond the ordinary wear-and-tear. If this cannot be proven, the burden of cleaning falls to the landlord.
If you must do your own cleaning, you would do well to remember that vinegar is your most effective tool. Not only is it great for removing built-up dirt and grime, it effectively purges foul odors as well. After that, simply spray some air freshener to restore the indoor air to a breathable state. If the previous tenant was a smoker, however, vinegar and aerosol might not be enough. For particularly pungent odors like tobacco smoke, activated carbon is the most potent solution. This substance can be found in bamboo charcoal, which is found to be one of the best air purifiers that handle indoor smoke.
Residue From Pets And Pests
If your rental allows pets, tenants should bear full responsibility for cleaning up after them. When it comes to pests, however, things are not as clear-cut. It is usually the landlord's responsibility to ensure that the place is free of vermin. But if it can be proven that a tenant's actions led to a pest infestation, they can be held responsible for it.
Having special lease agreements with pet owners can help cover the cost of pet residue in case they leave without cleaning it up. This can take the form of a pet deposit, rent inclusion, or one-time fee depending on what you and the tenant find agreeable. As for pests, it is best if you document your property's history of pest infestations. Have the exterminator check the property for the possibility of infestation regularly. This way, you are ensuring that you deliver the rental unit in good condition to each new tenant. If pests appear, it would very likely be due to their actions. As with property damage, visual evidence will be very important for building your case against the tenant.
The quality of a rental is first and foremost the landlord's responsibility. But with a little due diligence, you can avoid paying out of pocket for someone else's mistakes. That extra bit of savvy can help your rental business become successful.
How To Deal With The 3 Worst Things Difficult Tenants Leave Behind