How to Give Your Old Home a Fresh Start
Posted by Brian Burke on Monday, September 19, 2022 at 2:47 PM
By Brian Burke / September 19, 2022
Comment

Building your dream home from scratch is very expensive. Therefore, few people can afford to make this dream come true. So, usually, we end up buying older homes because they are more affordable. However, even if these homes require a bit of work, nobody can deny that they are unique and have more character than new ones. Now, when it comes to updating your home, you have countless options. So, it all depends on how much time and money you're willing to invest. And if you need an incentive, you should know that even inexpensive improvements can increase your property's value. So, here are some ideas on how to give your old home a fresh start.
Paint is one of the best solutions when it comes to how to give your old home a fresh start
A fresh coat of paint is one of the most efficient and cheap ways of sprucing up your old home. And this applies both to the interior and the exterior of the house. Old homes generally have darker color pallets, making them gloomy. Therefore, you should opt for a warm color palette that will brighten up your home and your mood.
Moreover, it would be best if you didn't focus only on the walls but on other elements. For example, instead of throwing out worn-out furnishings, you can repaint them. You can give your kitchen a brand new look just by painting the cabinets. Touching up your old cabinets is a lot cheaper than replacing them. And you can even apply this to pieces of furniture you've grown bored of. Painting them in a different color will completely change their appearance and make them look new.
Light up the place
As previously mentioned, old homes can be a bit gloomy. And one of the main reasons for this is that they don't let enough light in. But no worries, you can fix this problem. If your budget allows it, you can replace those small windows with larger ones. Or, you can consider changing the layout and creating an open space. However, if you opt for these home improvements, you should let the experts handle them because you wouldn't want to knock down a load-bearing wall by mistake.
Now, if you don't have the budget for these updates, you can replace the old light fixtures. On the one hand, your rooms will be better lit. On the other hand, light fixtures can represent great accent pieces. So, don't underestimate their impact and choose carefully. Moreover, you can also add more light fixtures to your home to light up the place.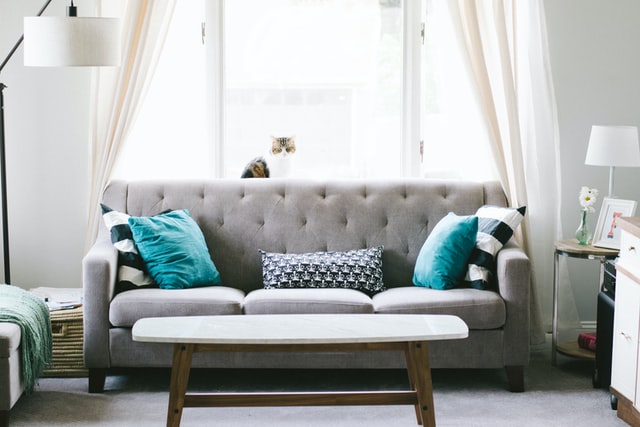 Make your home more energy-efficient
Since we've discussed replacing old windows and light fixtures, you should know that these solutions also improve energy efficiency. This is great because it helps protect the environment and your finances. After all, nobody likes to pay huge energy bills. And there's much more you can do to make your home more energy-efficient.
Firstly, even though winter seems far away, now is the perfect time to prepare your home for it. And making it more energy-efficient is one way to do it. So, be ready for the cold season by insulating your home. Focus on the exterior walls, but don't forget to check doors and windows for drafts. And make all necessary repairs before the cold sets in. This will help maintain the temperature in your home, thus preventing your heating system from working too hard. And this, in turn, will reduce your energy bill.
Update the floors
Updating the floors is one of the best solutions when it comes to how to give your old home a fresh start. The first thing you need to do is to get rid of all of those old, heavy, worn-out rugs. After you do this, assess the state of your floors. You can leave them uncovered if they are in good shape and add only some smaller rugs. You'll be amazed how much this can change the aspect of a room.
However, if your floors are pretty worn-out, you should consider updating them. Here, you have two options. You can cover them up with new carpeting or restore them. For example, if you have wooden floors, you can add a fresh coat of stain and varnish. This will immediately spruce up your floors and home.
Update the furniture
While antiques are beautiful and valuable, they shouldn't take up all the space in your home. Old furnishings are usually large and heavy and can make a room look smaller and darker. Therefore, you should create a balance between the old and the new. Keep the smaller antiques and put the rest into storage for future use or sell it. You can also repurpose some items. For example, you can use an antique trunk as a unique coffee table. It would help if you used your imagination and put the old items to use.
Ask for help
Sometimes, we all need a helping hand. And updating your home is no easy task. While some improvements don't require too much skill, others are better left to the professionals. So, hire a good contractor for any extensive remodeling projects. This way, you'll know for sure you'll get quality results. You can also consult with an interior designer. A person with experience will know how to modernize your home while preserving its old charm. So, don't hesitate to ask for help when needed.
Final thoughts
Many people try to avoid buying old homes because they require repairs and improvements. But the truth is that old homes have much more character than new ones. Just think about the beautiful architecture that is so hard to come by nowadays. Of course, this doesn't mean you shouldn't update it a bit. Plus, any improvement you make will increase the value of your home. So, consider these ideas on how to give your old home a fresh start and go from there. Then, depending on your budget, you can extend the project even more. But remember that you should always maintain a balance between the old and the new