How To Keep Your Sunroom Warm in the Colder Seasons
Posted by Brian Burke on Friday, October 8, 2021 at 1:31 PM
By Brian Burke / October 8, 2021
Comment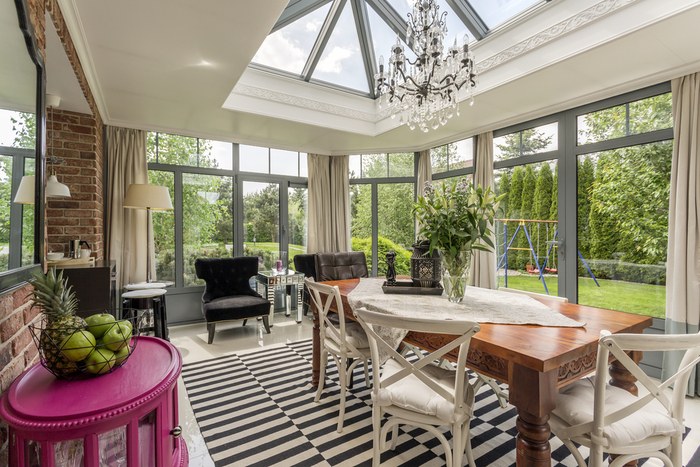 The colder months are upon us, and it's time to prepare so that we can enjoy every part of our homes, even when the chilly temperatures threaten. In this article, we'll discuss how to keep your sunroom warm in the colder seasons. With these ideas, you can make your sunroom the perfect escape all year long.
Turn On the Ceiling Fan
It may sound counterproductive, but if the ceiling fan is spinning in the right direction, it pushes the warm air down from the ceiling. That means a boost in heat for the sunroom. Turn the fan in the sunroom clockwise in the fall and winter to help warm the room up.
A Ductless Heating System
Don't spend money running ductwork to a sunroom. Heat your sunroom with a ductless heating system. Forget everything you think you know about these efficient systems. Ductless systems have a simple, sleek design that's perfect for a sunroom.
Cover the Windows
No one wants to block the sunshine in a sunroom. It's beautiful to look at and helps warm the room. However, using sheets of plastic over the windows keeps the view lovely and the sunroom warm. Check your local hardware store for weatherizing plastic.
Portable Heaters
Plug a space heater in while you're enjoying the sunroom, and remember to unplug it when you leave. Portable wood stoves also work and add a cozy ambience to the sunroom. Be ready with wood if you choose the wood stove option.
Decorative Rugs
Dress up the sunroom with colorful rugs, and you'll also create warmth. If the sunroom doesn't have carpeting, the floor feels cold when the chilly outside wind blows. Rugs are the perfect way to keep some warmth on the floor.
Insulate the Walls
Sunrooms are mostly windows, making insulation difficult. Insulate the walls, where possible, as well as the ceiling. Every little bit helps.
Bundle Up
Do all you can to keep your sunroom warm in the colder seasons but not so warm that you can't enjoy your favorite fuzzy slippers. We wait all year for the season of favorite sweaters and hot cocoa. Keep a basket of soft blankets near the seating in the sunroom, and encourage the family to sit, cover up, and enjoy.
Summer has left, but the sunshine hasn't. Enjoy it all year long, including fall and winter, in your sunroom.