Important Purchases After Buying a New Home
Posted by Brian Burke on Wednesday, December 23, 2020 at 7:49 AM
By Brian Burke / December 23, 2020
Comment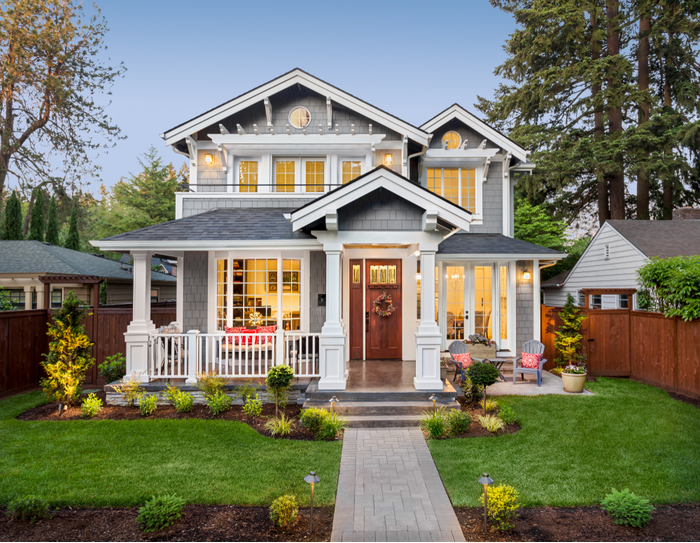 Purchasing a home is one of life's most important milestones that brings a new set of responsibilities. This is an exciting step to take in building your future and you most likely have plenty of things to do before getting settled in. Between furniture, interior and exterior updates, and personalizations, there is most likely a long list of items you are looking to purchase for your new home. While it might be tempting to purchase that new piece of furniture you have been eyeing, remember to evaluate and prioritize some of the most important purchases to make before splurging on items that you don't need right away.
Keys and Locks
When you close on your home, the previous owner will hand over the keys and garage door openers. One of the first things to purchase after you close is a new set of keys and locks. The previous homeowner could have given spare keys to their family and friends so it's essential to ensure that your new place is safe and secure. Remember to also change the codes to the garage door openers, locks, and gates if your home has any of these features. When you are getting your new keys, remember to have a spare made for you and to hide somewhere secure as well in case of emergency.
A Life Insurance Policy
After you purchase a new home, looking into various life insurance policy options might not be top of mind. However, remember that when you purchase a home, you are taking on a large amount of debt. Buying a home is most likely one of the largest purchases that you will ever make and your monthly payment will reflect this. If you have a family and they depend on your income to pay for your new mortgage payment, it is important that they are financially protected if something unexpected were to happen to you or your income.
Some companies will offer an employer-sponsored life insurance plan, which is a great benefit to have through your employer. However, you will want to ensure that the total amount of coverage through your employer is sufficient to cover your lost income and allow your family to pay for monthly obligations (such as your mortgage) if you were to pass away. If your employer-sponsored life insurance plan isn't sufficient, or if you don't have a life insurance plan at all, consider looking into term life insurance options now that you are a homeowner. A term life insurance policy is paid for on a determined monthly basis that expires once your chosen term ends. Because the term will eventually expire, the monthly payment is more affordable than whole life insurance options. For example, you could decide to purchase a term life insurance policy to last you through the duration of your mortgage or when your dependent children are more self-sufficient.
Various Safety Items
While you probably are dreaming of different items you can purchase for your new home to personalize it and make it feel more like your own, remember that there are other things that you will want to make sure you have first. Safety is key when you become a homeowner so you will want to ensure that you have items to keep yourself secure after you close. For example, you will want to immediately check the smoke and carbon monoxide detectors to make sure that they are working, otherwise, you will want to replace them as soon as possible. Additionally, you will want to make sure that you have a few fire extinguishers throughout the house. Some other safety items to have once you move in are a flashlight, batteries, a few gallons of water, and medicines. Additionally, consider purchasing a small safe to keep important documents and cash in your home.
Furniture
Depending on your situation, there are times when you might need to purchase furniture after you buy your home. Because furniture can be expensive, try to prioritize the most important items that you need first. For example, if you are moving into a home that has a different living room size than your current residence, you might need to purchase a new couch. Conversely, you might be purchasing a home with more space than you have now. Rather than financing all new furniture to fill these rooms, see if you can find a deal or ask family or friends if have items that they aren't using anymore. Many make the mistake of financing a large amount of brand new furniture that they have difficulty paying for because they're not accustomed to their new budget as a homeowner. The last thing you want to do is accrue a large amount of debt to fund furniture that you don't necessarily need to have right away.
Landscaping Tools
Depending on your geographic location and the type of property you have, you will want to make sure that you have the proper landscaping tools to take care of your yard after you move in. For example, if your home has a long driveway in an area with a lot of snow, you might want to consider investing in a snowblower. However, if you have a short walkway, you might be able to get away with just needing a shovel. Depending on the season that you move, you might need to set up contracts ahead of time with lawnmowers or snow removal services, so remember to do your research ahead of time so you aren't scrambling to find the services you need after you close.
Cleaning and painting supplies
Depending on your personal timeline from the closing date to actually moving in, you might have the opportunity to clean and/or paint before getting settled. It is crucial to purchase supplies ahead of time so you are ready to take advantage of having the home be completely empty to clean and potentially paint rooms before all of your possessions are inside. If you are on a tight schedule and need to move in immediately after you close, it is still important to purchase necessary cleaning supplies and account for them in your budget. Try to set aside some time to do a deep clean of the home before moving your furniture in.
When you purchase your home, remember that this is the beginning of a long journey. You will most likely stay in your home for years to come so while it is tempting to make the house perfect right after you move in, remember that there is plenty of time to make updates and personalizations. Try not to stretch yourself too thin by making a list of the most important and essential items that you need first, and then you can start deciding what additional items you want to purchase. Establishing a timeline of your short term and long term goals that you are looking to accomplish for your home can help you better allocate your time, resources, and funds without attempting to do too much immediately after becoming a homeowner. Important Purchases After Buying a New Home