Gleneagles Village, Highlands Ranch: 6 Reasons To Love Living In This Fabulous 55+ Community
Posted by Brian Burke on Tuesday, November 29, 2022 at 7:01 AM
By Brian Burke / November 29, 2022
Comment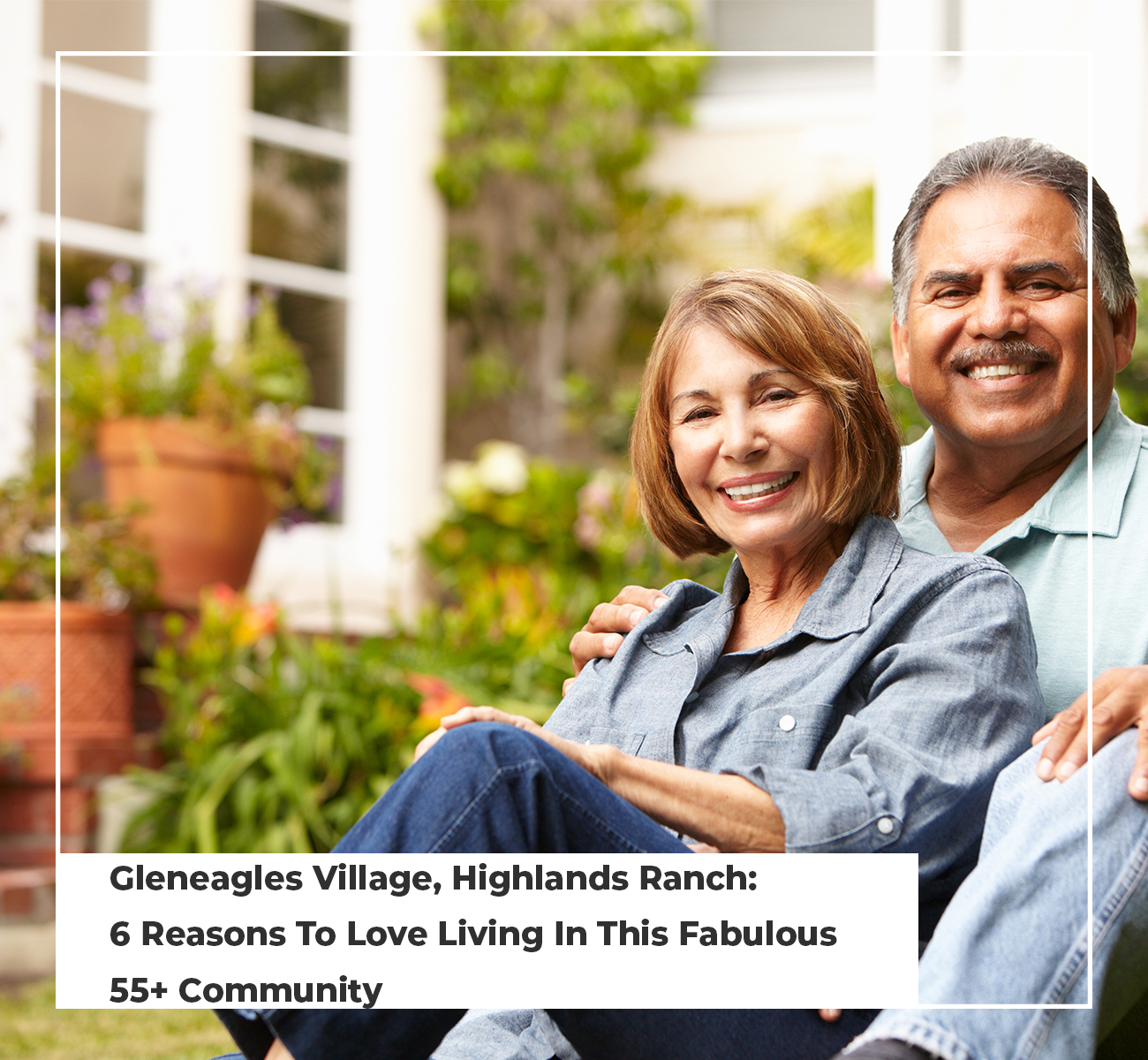 Located just 15 miles south of Denver, Gleneagles Village in Highlands Ranch is a beautiful and welcoming 55+ community ideal for those looking for an active, engaged lifestyle. Gleneagles Village provides a sense of peace and security for over 500 residents, with plenty of amenities and activities to keep residents busy and happy. From the on-site clubhouse to the heated pool and indoor tennis courts, there's something for you in this delightful community.
Living in Gleneagles Village, Highlands Ranch
Living in Gleneagles Village not only gives you plenty of activities to pursue but also provides a lovely and convenient location. You'll be within close proximity to all that Denver has to offer while also being able to take advantage of the breathtaking views of the Rocky Mountains.
The best of both worlds is what you get when you choose Gleneagles Village in Highlands Ranch as your new home. In this blog, we will provide an inside scoop on 5 reasons to love living in Gleneagles Village.
Top 6 Reasons To Love Living in This Fabulous Community
1. Exceptional Real Estate Options
If you're looking for a secluded haven where you can enjoy panoramic views and modern finishes, Gleneagles Village in Highlands Ranch is the perfect place for you. With curb appeal that will make any potential homebuyer fall in love at first sight, these homes have it all.
Home prices range from $300k to $700k, making this an affordable option for many families and retirees while also providing the luxury and amenities that those who are used to a more high-end lifestyle are seeking. The homes in Gleneagles Village are designed with the needs of those 55 and better in mind.
From first-floor master bedrooms to maintenance-free exteriors, every detail has been carefully considered to make life easier and more enjoyable for residents. With charming villas and spacious single-family homes available, finding a property that checks all of your boxes is easy in Gleneagles Village.
2. An Active Homeowners Association
When you get to a certain point in your life, the last thing you want to worry about is maintaining your property. That's where a homeowners association, or HOA, comes in. In Gleneagles Village, the HOA covers all exterior home maintenance, giving you more time to enjoy your retirement.
The HOA also owns the community streets which means that they are responsible for snow removal, street lighting, and trash pick-up. This is probably one of the most attractive features to those considering a move to Gleneagles Village. Listed below are more benefits that come with being a part of the Gleneagles Village HOA:
Roof Maintenance
Exterior Home Painting
Landscaping Services
3. Fantastic Amenities
As an adult community, Gleneagles Village offers its residents an impressive array of amenities and activities to take advantage of. The clubhouse otherwise known as the social hub of the community is fully equipped with a catering kitchen, banquet hall, and game room.
In 2003 the clubhouse experienced some new additions including two new pool tables, card tables, and a library. Seeing the community develop in big ways and small over the years is one of the things residents love most about living in Gleneagles Village.
And for those who want to get outside and enjoy that fresh Colorado air, there are certainly plenty of options for that. From the tranquil ponds that are scattered throughout the community to the wonderfully landscaped walking trails, you won't have to go far to find a little bit of peace and quiet.
Some of the other amazing amenities offered in the Gleneagles Village include:
Exercise Facilities
Meeting Rooms
Outdoor Pool & Spa
Outdoor Patio

4. Beautifully-Kept Golf Course
It really is no secret that retirement and golfing go hand-in-hand and Gleneagles Village does not disappoint in that department. The Links Golf Course is an 18-hole, course that was designed by Dick Phelps in 1986. Since then it has undergone some changes but it is still one of the most popular courses in Highlands Ranch.
This beautiful course weaves its way throughout the community providing stunning views of both the golf course itself as well as the Rocky Mountains in the distance. The best part is that residents of Gleneagles Village have preferential tee times and membership rates. So whether you're a seasoned pro or just picking up a club for the first time, you'll be able to participate in the game you love without breaking the bank.
5. Exciting and Active Lifestyle
As such a well-established community, Gleneagles Village has built up a reputation for proving a way of life that is second to none. Residents and potential buyers have the advantages of both a small-town feel and the convenience that comes with being so close to the city.
Gleneagles Village boats numerous social gatherings, potluck meals, and themed parties throughout the year giving residents plenty of chances to get to know their neighbors. The sense of belonging that is constantly flowing through the community is one of its defining characteristics.
Speaking of neighbors, one of the things that they'll be quick to tell you is that living in Gleneagles Village has made them feel like they're part of a big family. And when you get a chance to experience that feeling first-hand, you'll understand why so many people are eager to call Gleneagles Village home.

Some of the most popular events and activities at Gleneagles Village include:
Aerobics - This low-impact form of exercise is a great way to get your heart rate up without putting too much stress on your joints.
Memorial Weekend Concert - Every Memorial Day weekend the community comes together for an outdoor concert featuring a live band. Bring a blanket, and some snacks, and enjoy an evening under the stars with your friends and neighbors.
Swing Dance - Grab your dancing shoes and head on over to the clubhouse for an evening of Swing dancing. No experience is necessary, and there's always someone around who is happy to show you the ropes.
Eagles Chorus - The Eagles Chorus is a group of talented residents who enjoy getting together to sing their hearts out. The chorus performs all around the Highlands Ranch area and always puts on a great show.
Book Brunch - Every month the Book Brunch group meets to discuss a different book that they've all read. This is a great way to expand your literary horizons and make some new friends in the process.
Singles Club - The singles club is a great way for the unmarried residents of Gleneagles Village to socialize and meet new people. The group gets together for dinners, movies, and all sorts of other activities.
6. Prime Location
As mentioned before, one of the things that set Gleneagles Village apart from other retirement communities is its location. Situated in the heart of Highlands Ranch, Gleneagles Village is just a short drive from all the shopping, dining, and entertainment that Denver has to offer.
Aurora, Colorado is another popular destination and is approximately 18.4 mi via I-225 S and I-25 S. There you can explore the Aurora History Museum, catch a movie at Century Aurora and XD or do some shopping at the Town Center of Aurora. Although Gleneagles Village is a world of its own, it's still very much a part of the Highlands Ranch community.
Keep in mind that these are just 6 of the many reasons why Gleneagles Village is such a special place to live. From the people to the location, there's really nothing not to love about this wonderful retirement community. Don't wait any longer, come see for yourself why so many people have chosen to retire in this one-of-a-kind community.
Kenna Real Estate represents the region's finest properties with exceptional skill using the most innovative technologies currently available. Kenna Real Estate offers ultimate privacy and security, speed, and efficiency. Their years of full-time experience have given them a clear understanding of the mindset of home buyers and sellers and a thorough understanding of the regional marketplace.