The Best Flooring Types for Families With Kids
Posted by Brian Burke on Wednesday, April 7, 2021 at 10:39 AM
By Brian Burke / April 7, 2021
Comment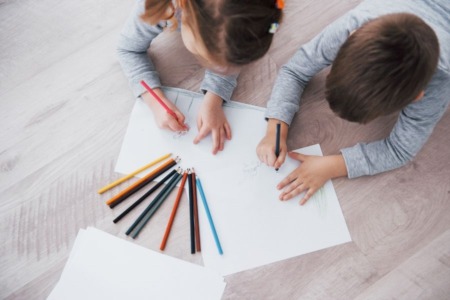 You spend hours and hours at home with your kids. Playing hide and seek, painting on the ground, or doing a board game—your floor is where you make countless memories. If you want a safe and fun atmosphere at home, here are the best flooring types for families with kids.
Carpet
Carpet is one of the simplest and safest options around. If a child falls onto a sea of tiny fibers, they'll have a cushiony fall. However, if they spill their juice or watercolor paints, you may face difficulty removing the stains and debris. Be sure to have a high-quality vacuum on hand and prepare yourself to use it regularly.
Hardwood
Hardwood floors are beautiful wooden masterpieces that add color and dimension to a home. These floors are best for those with older children who won't scratch up the floor when crawling or running around. If you have small children and want that wood appearance, you should opt for vinyl flooring, which is more scratch-resistant and durable.
Concrete
It may sound counterintuitive, but concrete is actually a great flooring solution for families. You can utilize concrete in many rooms, from the garage to the basement to the patio to the mudroom. There are dozens of concrete colors, patterns, and textures to choose from, so select something fun. However, if your child tends to fall a lot, find another solution.
Rugs
Many families live in places where they rent or lease their homes and cannot change the flooring independently. Though you cannot replace your tile or vinyl flooring, you can add rugs. There are dozens of rug patterns, styles, textures, and fabrics that allow your child to have a safe and colorful play space. Search for designs that you love and add them to the hard spots on your floor.
Knowing the best flooring types for families with kids equips parents to make the right choices for their home. With a fun, beautiful floor, you can spend countless hours of fun with your kids.