The startup ecosystem in Denver, Colorado
Posted by Brian Burke on Friday, January 7, 2022 at 6:41 PM
By Brian Burke / January 7, 2022
Comment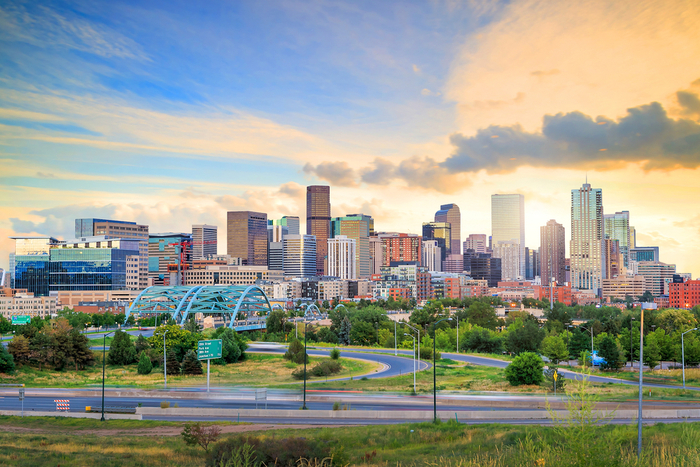 Denver, aka the Mile-high city, is the capital and most populous city in Colorado. Nestled in the South Platte River valley, just east of the famed Rocky Mountains, it started its life in 1858 as a gold mining town, and after exhausting the gold mining, quickly became a supply hub for new mines in the mountains.
Denver continues to hold its position as a natural location for storage and distribution of goods and services to the Mountain states, Southwestern states, as well as all Western states, due to its geographical position as the largest city within 500 miles. Denver is also equidistant from large cities such as Chicago, S. Louis, Los Angeles and San Francisco. These factors have made Denver a major transportation hub in the United States.
Denver is different from other large American cities in several ways. It's population is well-educated, with the second-highest per capita education level in the country. Its population is also very diverse, with one of the largest Mexican-American populations in the entire United States, and an almost one-third portion of the population with Hispanic origins. There is also a significant immigrant population living in Denver.
Denver is ranked as a Beta world city by the Globalization and World Cities Research Network.
The Startup ecosystem in Denver
Denver based Startups are booming, and the year 2021 alone saw ten Denver startups achieve unicorn status, and several others growing rapidly.
According to a new ranking from innovation policy advisory and research firm Startup Genome, the Denver/Boulder startup scene is one of the top 30 ecosystems in the world. The Denver/Boulder corridor placed No. 27 in the Global Startup Ecosystem Report 2021, down three spots from the GSER 2020 rankings.
Startup Genome measures Startup Ecosystems on 6 key Success factors: Performance, Funding, Connectedness, Market reach, Talent, and Knowledge.
Denver and Boulder scored high in the connectedness category, specifically when it came to the number of tech meetups in the ecosystem. The cities also placed highly in the Knowledge category, largely due to a high production of life sciences research.
Denver is very supportive of Startups, with its relaxed regulatory environment, single factor tax, low corporate tax rate, affordable cost of living, airport connectivity, and the existing technology ecosystem all coming together to make Denver a very attractive destination for startups.
Industry verticals grabbing attention
The Startup ecosystem in Denver is supporting the establishment and scaling of startups in a variety of industry verticals and technology domains.
Information Technology is a major focus area, and many startups are either IT-based or IT-enabled. A few great examples are: QuantumMetric, Matillon, JumpCloud, etc.
Transportation & Delivery is another high-focus Industry vertical, due to the importance of this industry in this region. Veho is a prime example.
Health and Life sciences also carries significant focus, with considerable research in this domain. SonderMind, DispatchHealth, etc are examples.
Space exploration is also a major industry vertical that the entire world is looking at Denver. Sierra Space is a large player, while Voyager Space holdings is an emerging player in this space.
Popular Incubators & Accelerators in Denver
Denver has several very successful Startup incubators and accelerators:
1. TiE Denver
2. Catalyst
3. Advanced Industries Accelerator program
4. Garini Ventures
5. Visible Connect
6. Global Accelerator Network (GAN)
7. Uncharted
8. Denver Accelerators
9. Galvanize
10. Innosphere
11. Prime Health
12. Co.Starters at the Commons
13. The Shell Gamechanger Accelerator
14. The Founder Institute
15. Boomtown Accelerator
16. TechStars Accelerator
Other organizations offering support to small businesses
The following organizations & communities offer various types of support to new businesses in Denver:
Colorado SCORE: Free, volunteer-based counsel & mentoring services to new & growing businesses. Colorado chapters include Colorado Springs SCORE and Denver SCORE.

U.S. Small Business Administration district offices: The SBA offers financing and grants, as well as consultations and counseling services. There are also opportunities to apply for federal government contracts and assistance after natural disasters, via the SBA.

Colorado Small Business Development centers: Colorado hosts more than a dozen development centers for small businesses.
Unicorns in Denver & Boulder
Denver saw ten of its startups achieve Unicorn status in year 2021:
Quantum Metric: Helping businesses build digital products faster
SonderMind: Matching clients to behavioral health experts
DispatchHealth: High-quality at-home care
Uplight: Power management software for Utility companies
Matillon: Cloud Data integration
JumpCloud: Work-from-home toolbox
HotelEngine: Corporate travel firm

AgentSync: Insurance compliance management

Sierra Space: Building a commercial space station and Dream chaser spaceplane
1. Veho: Package delivery.
2. Other previous Unicorns in the region include:
3. Boom Supersonic: Airlines manufacturing
4. EverCommerce: SAAS provider for SMBs
5. Guild Education: Life-long learning for working adults
6. Ibotta: Cashback app for online shopping