Top 10 Denver's Premier Luxury Neighborhoods: Destinations for Upscale Living
Posted by Brian Burke on Saturday, April 29, 2023 at 10:17:13 AM
By Brian Burke / April 29, 2023
Comment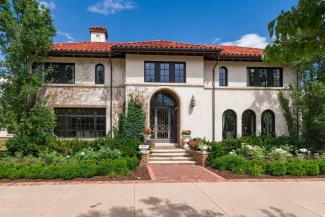 Denver, Colorado, is a thriving metropolis that harmoniously blends urban excitement with natural beauty. For luxury home buyers seeking the most distinguished properties in the city, we present the top 10 neighborhoods offering opulence, sophistication, and an excellent way of life. Find your dream home in one of these prestigious Denver communities.
Cherry Creek Synonymous with luxury living, Cherry Creek is renowned for its high-end shopping district, upscale dining, and impressive estates. Homes in this neighborhood boast refined architectural designs, spacious lots, and prices often exceeding $2 million. Cherry Creek provides an unrivaled, elegant lifestyle for its residents.
<<< View Homes for Sale in Cherry Creek >>>
Belcaro Adjacent to Cherry Creek, Belcaro features sprawling ranch-style homes and spectacular custom estates on expansive, tree-lined lots. With a great sense of community and a serene atmosphere, homes in this prestigious neighborhood range from $1.5 million to over $5 million.
<<< View Homes for Sale in Belcaro >>>
Hilltop is a picturesque neighborhood with grand residences and lush, mature landscaping. Offering a mix of modern and traditional architectural styles, luxury homes in Hilltop range from $1.5 million to over $4 million, catering to various tastes and preferences.
<<< View Homes for Sale in Hilltop >>>
Polo Club The exclusive Polo Club neighborhood boasts palatial estates on sprawling, gated properties. Residents can indulge in equestrian activities and elegant social events with easy access to the private Denver Polo Club. Luxury homes in this esteemed enclave typically start at $3 million and can reach well over $10 million.
<<< View Homes for Sale in Polo Club >>>
Country Club Surrounding the private Denver Country Club, the historic Country Club neighborhood offers stately mansions and elegant custom homes. With its tree-lined streets and classic architecture, properties in this highly sought-after neighborhood range from $2 million to $6 million.
<<< View Homes for Sale in Country Club >>>
Washington Park Washington Park, or "Wash Park," is a vibrant neighborhood centered around the picturesque park of the same name. Known for its beautifully restored historic homes and new custom builds, luxury properties in this community range from $1.5 million to $3 million, offering a blend of modern and classic styles.
<<< View Homes for Sale in Wash Park >>>
Observatory Park Located near the University of Denver, Observatory Park features luxurious custom-built homes on tranquil, tree-lined streets, with a mix of traditional and modern Homes for Sale designs, properties in this desirable neighborhood range from $1.5 million to over $4 million.
<<< View Homes for Sale in Observatory Park >>>
Bonnie Brae Bonnie Brae is an upscale neighborhood with winding streets and unique custom homes. Influenced by the English countryside, this charming community offers luxury homes with prices ranging from $1.5 million to $4 million, seamlessly blending traditional and contemporary designs.
<<< View Homes for Sale in Bonnie Brae >>>
Crestmoor The peaceful Crestmoor neighborhood is home to a diverse array of luxury properties, from mid-century modern marvels to newly-built custom estates. With wide streets and easy access to parks and recreational facilities, Crestmoor's luxury homes range from $1.5 million to $5 million.
<<< View Homes for Sale in Crestmoor >>>
Platt Park Platt Park is a dynamic neighborhood that combines historic charm with modern luxury effortlessly. Featuring stunning custom-built homes, Platt Park offers a mix of architectural styles and prices ranging from $1.5 million to $3 million.
<<< View Homes for Sale in Platt Park >>>
When searching for the perfect luxury home in Denver, Colorado, it's crucial to work with an experienced real estate professional who understands the local market. The team at Kenna Real Estate, led by top expert Brian Burke, is here to assist you in finding the ideal property that meets your needs and exceeds your expectations. Our in-depth knowledge of the most distinguished neighborhoods in Denver ensures that we can guide you through each community's unique offerings and help you make an informed decision.
Denver's top 10 luxury neighborhoods boast exquisite homes, exceptional amenities, access to top-rated schools, and a strong sense of community. With proximity to the city's finest dining, shopping, and cultural attractions, these communities offer an unparalleled lifestyle for discerning home buyers.
Denver's thriving economy, diverse job market, and spectacular natural surroundings make it a prime location for luxury living. Residents of these upscale neighborhoods have easy access to outdoor recreational activities such as skiing, hiking, mountain biking, and various world-class golf courses and private clubs. These communities cater to an active lifestyle and the desire for relaxation and leisure.
Whether you're seeking a grand historic mansion, a modern architectural masterpiece, or a sprawling equestrian estate, Denver's top luxury neighborhoods offer many options for the most discerning home buyers. Trust Brian Burke and the Kenna Real Estate team to help you navigate the Denver luxury housing market and find the perfect home that embodies your unique taste and lifestyle.
Exploring the top 10 neighborhoods for luxury properties and the unparalleled lifestyle they provide. Discover the home of your dreams in one of these prestigious Denver communities today, and experience Denver's ultimate elegance and sophistication.
View Luxury Homes for Sale