What You Need To Know When Selling Your Horse Property in Colorado
Posted by Brian Burke on Tuesday, March 7, 2023 at 7:43:54 AM
By Brian Burke / March 7, 2023
Comment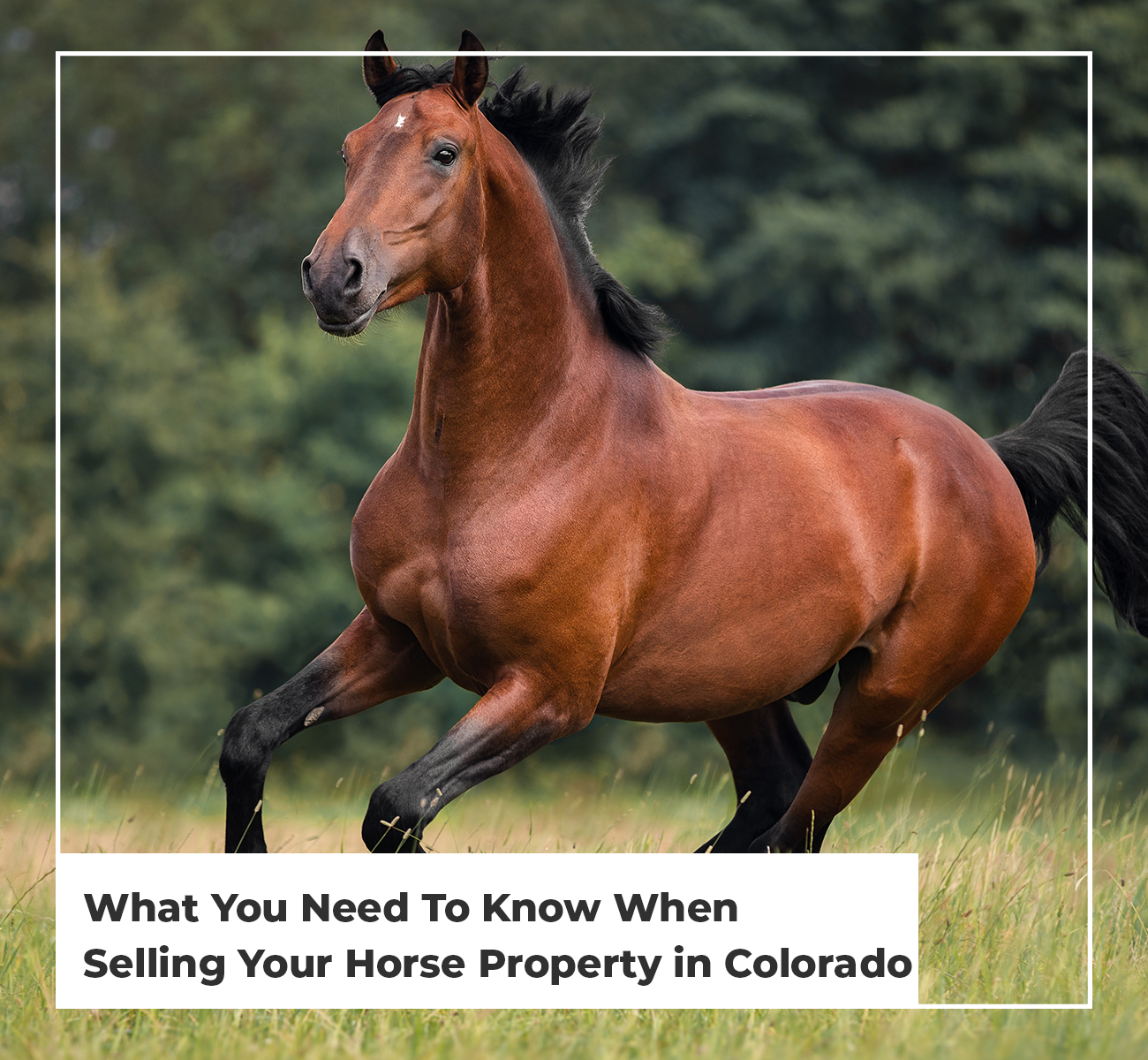 Colorado has become a huge hit for those looking to find a new home, and they have an abundance of excellent properties that would be perfect for a new buyer. People have started to seek out horse properties and farms to spend the rest of their life, which has led to a significant increase in the sale of farms all over the country. If you are selling your horse property in Colorado, have a look at this great article that will tell you everything you need to know when selling your horse property in Colorado.
1) Start By Cleaning Up
When selling a horse property, you will likely have a realtor and potential buyers touring the area, so it's a good idea to clean it up before anyone can see any of the messes that are lying around. This is the best time to fix any of the minor issues you have and repair any small problems that have persisted for a while. If you have too many issues to fix in a timely manner, you can also consider listing your property "as is" and taking a minor hit on your final sale price.
Start with cleaning any interior areas and work your way out to the pastures. Fix any sticky gates, rotten fence posts, or other minor issues that you have been meaning to get around to before you start doing a deep clean. Wash up the stables, barns, and any other buildings while putting everything back in its place so it stays nice and tidy.
2) Focus On the Essential Things
If you have a bit of extra money to invest in repairs or upgrades before you sell, then you should make sure you are focusing on ones that will give you a good return over things that are just cosmetic. Fresh paint will make things look great, but a farmer would prefer an upgrade that will last them a long time.
Fences, security systems, and extra lighting are all great ways to add something valuable and appealing to other horse owners. These upgrades might cost a little more, but you are likely to see a larger number of potential buyers and a higher price for your final sale if you have modern equipment. You should also remember that some of these upgrades take a while to install, so you should consider listing your home after they have been completed.
3) Get a Road View
There are plenty of minor and major improvements you can make to ensure your home looks appealing for those who are seeing it for the first time. Fixing the small things is an excellent idea for anyone who will be right on the property, but you need to think about how your farm looks at first glance. Many people will likely use this to determine whether or not they are interested in your horse property for sale, so it's important to make the best first impression that you can.
A fresh coat of paint is an easy way to make the buildings look new and updated, but you should also think about doing some larger upgrades. If you have a gravel driveway, consider the cost of getting it finished with pavement, as the driveway is one of the most used areas for farm property. A paved driveway makes the entire front yard look much cleaner and looks fantastic when paired with freshly painted buildings.

4) Get Creative With Your Advertising
Selling a horse property can be tricky to do, as many people can't get the full idea of the size from a small photo on their screen. Most real estate transactions start with an online listing, so you want to make sure your visuals are as appealing as possible for the casual scroller. There are quite a few unique and exciting ways you can show off your property that will make your listing stand out from the pack, so think about using a few of these tricks to make your horse property for sale in CO look attractive to everyone.
Photographs are great, but you should consider doing a little extra and offering a video tour, a 360-degree tour, or aerial drone shots so that you can see every inch of the property. If you don't have access to this equipment, consider hiring a local videography company to come in and get these fantastic shots. Listings that include videos are more likely to be shared and seen, so it's well worth the extra cost to hire a good company to help you out.
5) Use the Right Seller
If you are using a realtor to help sell your property, you should look for one that has experience with selling farms or experience with selling more significant properties in the area. They will do a much better job promoting your listing and will likely have some connections to potential buyers in the area. They will also be able to post the listing in areas beyond the regular real estate publications to ensure the area reaches the right buyer.
You will also need to make sure you are including everything necessary in the listing so that it is appealing to anyone who has experience with horse properties. Include any improvements or updates that have been made within the last few years, and make sure to include the correct measurements for areas like pastures, stables, and storage. If you are selling a property with a home on the land, don't forget to include the details of the house so the seller gets the whole idea of what is available.
6) Sell it How You Want
If you want to sell your horse property in Colorado quickly and easily, you might consider selling it differently so that you don't have to worry about it sitting on the market for too long. Many large farm properties are auctioned off instead of sold through traditional means, and this could be something that works better for you. This is also a good idea if you want to sell the property "as is" or if you want to get rid of all the extra equipment in the same sale.
You can also consider doing an auction if you want to include any animals in the transaction. Auctions are typically full of those who are looking to add to their farming empire instead of those who are looking for a hobby farm, so you are more likely to get a reasonable price for the whole shebang. If you are considering moving out of state or want to get out of farm life, this is one of the best options to consider.
7) Have Your Records Ready
Selling a horse property in Colorado will likely mean that you will have to transfer some ownership over, so make sure you have all of your paperwork in order and up to date. This is especially important if you are choosing to sell your farm and include the equipment or animals in the sale. Some of these records might take a while to acquire from the county or state, so you should start on this step as soon as you decide you are going to sell.
Another good thing to have on hand is a list of your regular expenditures for the farm so the new buyer can see whether or not they will be able to handle the extra costs. This step isn't necessary for every horse property for sale, as some don't have high expenditures, but a potential buyer will appreciate it.
8) Get the Best Price Possible
Setting the price of your property will depend on quite a few different factors, so do a bit of research before you settle on a number. Look up the property value in your area and make sure you compare it to sales of properties that are similar to yours. Pricing your property too high will make some buyers pass on it immediately, but you want to make sure you are getting your worth when it comes to what you are offering.
It's a good idea to write down all of the values of things that you are selling so nothing is forgotten. You should also make sure any of the equipment you include in the sale is running properly and ensure that all of the other items that are selling with the property are in good condition.
There are so many things you need to consider when it comes to selling a horse farm, and as long as you make sure you have everything in order, your horse property should sell smoothly. Selling a horse property is a bit different from selling a home, so do a bit of research into your specific county to make sure there is no extra soil testing or surveys that need to be done before you can finalize your sale.
The content relating to real estate for sale in this web site comes in part from the Internet Data eXchange ("IDX") program of METROLIST INC® Real estate listings held by brokers other than Kenna Real Estate are marked with the IDX Logo. This information is being provided for the consumers' personal, non-commercial use and may not be used for any other purpose. All information subject to change and should be independently verified. Click here for the full Terms of Use.