Denver New Construction Homes for Sale
Although there are several large-scale new home developments in Denver, such as RidgeGate and Heritage Hills in Lone Tree, new home builders are active throughout the city and the surrounding area. When exploring the market, whatever your preferred location, you should be able to have a choice between older properties and new construction homes.
Buying a Brand New Home
To avoid any disheartening experiences, a Realtor will direct you toward a new property in your chosen area that fits your budget. When visiting the various model homes with you, he will assist in sorting out what is on offer, showing you how to distinguish between the basic house and the upgrades and guide you towards the choice that fits your circumstances. Options choices, which never come up with a resale property, are central to the purchase of a new property, where the basic house is usually what the name suggests: a property to which a range of added features could add up to 15-20% on the final price. When deciding on the price range you can afford, this has to be taken into account. For new home builders, Colorado offers ample profitable opportunities for new developments. As a buyer, you need to be committed to your Realtor, who, in return, will put all his efforts into finding the right property for you in your preferred price range.
Be a Smart Home Buyer
Not all builders advertise their homes on the multiple listings system (MLS). This may be because they hope to sell without paying a Realtor's commission; however, if a Realtor brings them a client willing to buy, the builder will generally be willing to view the commission as an advertising expense, knowing that the Realtor will bring more buyers. A buyer who is represented by a Realtor gives out a clear message to the builder that they are not reliant on him to find a home, that he is competing with other builders or sellers, and that his prospective buyers will have been well advised about the property market and local conditions. The builder will also know that the Realtor only recommends lenders who will deliver on a loan as promised.
Working with an experienced Realtor to buy a new home should benefit all parties and save the buyer time and money.
While you'll find real estate developments all throughout Denver, there are several neighborhoods being built with specific goals and visions in mind. These communities integrate your home with your lifestyle, promising to provide you with more than just a place to live.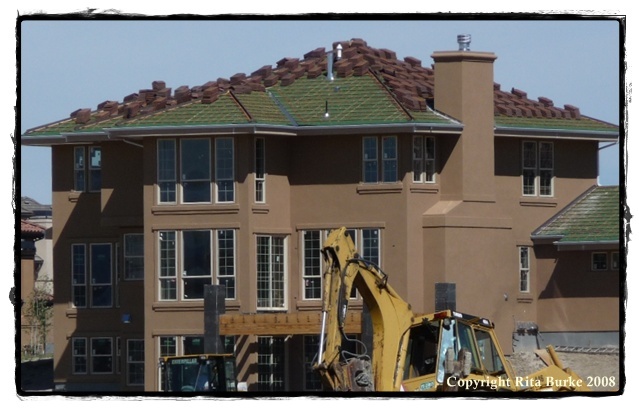 RidgeGate, a new development in Lone Tree, mixes "Green"-friendly homes with nearby Skyridge Medical Center, parks and trails, entertainment, and culture. The development of RidgeGate connects every nearby amenity through a trail system, creating a well-connected community. The neighborhood works to integrate sustainable living with convenient, comfortable living.
Heritage Hills is another developing community in Lone Tree, a gated neighborhood with custom-designed homes. The neighborhood has its own pools, tennis courts, parks, and playgrounds and is just minutes from Park Meadows, the Denver Tech Center, and the Light Rail.
The Meridian Business Park is an 800-acre master-planned residential community. 2,500 multi- and single-family homes are being built next to the business park, all within a wide price range. The neighborhood combines business with residence, all the while maintaining a community atmosphere.