Showing Your Home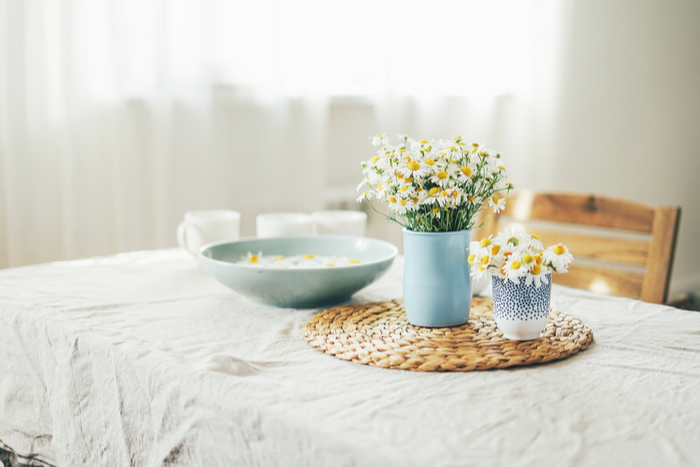 When a potential buyer wants to see your home in person or through a virtual viewing then it is vital to ensure that you're making the right impression. You need to show your home at its best to make sure that buyers want to take the next step and make an offer.
Curb Appeal
The first impression that your home makes will be as potential buyers see it from the curb outside. Take a look at your home from this position and try to see it through fresh eyes. If you were seeing the property for the first time, would you want to step inside?
Common issues to look out for are faded paintwork, clogged drains or gutters, bad lighting around the entrance, difficult to see house numbers, and poorly kept paths or driveways leading up to the property. Fixing these issues will make your home more attractive to potential buyers who stop outside to take a look or arrive for a scheduled viewing. Simply repainting your door or adding a few plants around the entrance could make a big difference.
Refresh Your Home
Many homes have a few odd jobs that need doing or areas that could do with a fresh coat of paint. While these are easy to overlook when we're used to them, even minor issues can stand out when someone is considering buying the property. An easy way to make your home more appealing to potential buyers is to take care of all those little tasks.
You might want to check for:
faded or peeling paint or wallpaper
marks or stains that can be painted over or steam cleaned
sticking doors or windows
loose knobs on doors or closets
dripping taps
light bulbs that need replacing
worn or grubby caulking in bathtubs and showers
If you're redecorating, then try to keep everything as neutral as possible. It's easier for potential buyers to imaging themselves living in the property when they aren't being overwhelmed by someone else's taste.
Manage the Yard or Garden
Don't forget that potential buyers will also be looking at any outdoor spaces when you're showing your home. You should make the same effort to address any issues and tidy up the space before arranging any viewings.
Take a walk around the property to look for any jobs that need doing. It's a good idea to cut back any overgrown plants, especially if they're blocking light getting into your windows or covering any attractive architectural details. Remove any clutter such as garbage cans or old building material from your yard, but consider adding some plants if the garden is looking bare. Try to keep your lawn and planting areas looking healthy while you're allowing viewings. If there are any structures on your property, then make sure they are tidy and well maintained.
Set the Scene
Once you've addressed any repair work and made sure your home decor is at its best, then you can get your home ready for visitors. You need to make it as easy as possible for potential buyers to see the best bits of the property and to picture themselves living in it when showing your home. You should make your home seem light, spacious, and tidy. It can also help to remove yourself from the property as much as possible, by minimizing the effects of your taste and how many of your belongings are present.
Some simple ways to set the scene for potential buyers can include:
removing or rearranging your furniture to make better use of the space and ensure there is plenty of room for viewers to walk around
clearing out any clutter that could distract or overwhelm potential buyers and make storage spaces such as the attic or basement seem cramped
opening draperies to let in more natural light or adding side lighting to highlight key features of the room
Before the Viewing
Your home should now be in great condition, but there are still a few tasks you'll need to take care of right before showing your home. As well as cleaning and tidying every room, there are a few tricks you can use to make your home seem more welcoming.
Turn off the TV or any other sources of noise. Leaving a radio tuned to a middle of the road or classic rock station at a low volume can be a good idea for open houses when you're expecting multiple viewings.
Open the drapes if it's light outside and turn on the lights indoors, especially any side lights you've placed to highlight features or living areas.
Ventilate the house and add air fresheners to each room, especially bathrooms. You could warm up some pastry or heat a pan of water on the stove with a few drops of vanilla in it to create a homely scent.
Keep pets out of the house on viewing days and make sure that you and your family are out of the way when potential buyers are looking around.
How to Show Your Home
Getting your home ready for showings is important, but you also need to make it as easy as possible for people to come and see the property. Your realtor will help to arrange showings, but you need to stay in contact and be ready to show the house when someone is interested. Make sure that your realtor knows the best way to contact you and always check for messages if you're using voicemail. Kenna Real Estate can also sign you up for our Text2Approve service, which will allow you to quickly respond to requests for showings by text.
You can make it easier for buyers to see your home by allowing your realtor to take them on virtual viewings, arrange an open house for multiple buyers, or set up a lockbox. A lockbox is a secure space where you can leave a key for the realtor to access your home, without having to meet you first. If you're using our text service, then you'll be able to accept last minute or drive-up showings and allow our realtors to access your home using the lockbox. The easier you make it for buyers to see your home, the more likely you are to get a speedy offer.
Take the Nine Minute Showing Drill
Occasionally you will receive a call to schedule a showing to take place within the next few minutes. The following is a checklist for this type of panic:
Sound: Turn off the television and tune the radio (low volume) to a soft rock, middle of the road or classic rock station.
Sight: Turn on every light in the house (day or night) and open every drape and blind (day time only).
Odors: Heat some frozen pastry slowly in the oven or heat a pan on the stove and then drop in a few drops of vanilla.
Kitchen: Wipe kitchen counters, place dirty dishes in dishwasher.
Bathrooms: Wipe counters, flush and close toilets.
Living/Family Rooms: Hide magazines, newspapers, and games; remove clutter.
Bedrooms: Straighten beds. Hide clutter under bed (not in closet).
Exterior: Put away toys and clutter. Keep walk clear.
Children & Pets: They are a distraction, so send them outside.
Goodbye: Sorry, but this is the single most important thing you can do in a showing to help sell your home! Even if the showing agent insists that it is okay to stay, you must leave. Buyers must get emotionally committed to your home to buy it and they cannot become emotional about "their new home" if you, the current owners, are "hanging around." Please, at the very least, go into the backyard. Even better, go to the store.
Home Showing Tips
Why we use A LockBox On Your Home. Homeowners should not be present in the home during a showing as it makes the potential buyer uncomfortable. Lockboxes allow instant and secure access to your home.
FACT: Homes with lockboxes get more showings, with less days on market, than homes without lockboxes because they are easier to show. Check Your Voicemail and/or Answering Machine regularly. Not checking your voicemail and/or answering machine regularly can mean missed notifications about showings.
Make sure your voicemail and the voicemail of any other numbers you designate for notifications are properly set up to receive messages. Communicate With Others In Your Household About Showings.
Most problems with showings come from one person in the family not receiving notification about a showing from another member of the family. Be sure everyone in the house knows the importance of relaying dates and times of showings to other members of the family so no-one is caught unaware. Use Our 'Text2Approve' Feature. Ask your Agent about this CSS feature that allows you to approve, decline or even reschedule showings by text message with your smart phone.
If you don't reply back, we will still make all the necessary calls for the potential appoinment. Always Have Your Home Ready To Show This is probably the hardest to do. Keeping your home in good showing condition can not only improve the quality of each showing, but also reduces your stress.
When the showing service calls about a top Real Estate agent with a buyer that is "in the area," you won't have to frantically try to clean up. Be Prepared For "Drive-Up" Showings.
Agents prepare tours for their buyers ahead of time. Often, however, their buyer will see a house for sale that was not on their tour. CSS makes it much easier for that Agent to then schedule a "drive-up showing". Be aware that this may happen to you. Often these spontaneous showings are the ones that sell your home.
Kenna Real Estate defines a "drive-up showing" as a Agent requesting a showing appointment within 20 minutes of their planned arrival at your home. How To Potentially Increase Showings: • Put your home on an electronic lockbox (if available)
Allow showings whenever possible, even when your home is not in perfect condition or someone is asleep in one bedroom, You dont know what Showing will produce the Buyer for Your House so try not to turn away any home buyers.
Try to not restrict showing times How You Could Lose Showings:
Rescheduling/Declining showings
Requiring advanced notice
Restricting available showing times
Here are some more Resources if you want to Sell a Denver area Home and Cash in on the Bidding Wars.
More resources for Sellers